Envision Center unveils new virtual, augmented reality environment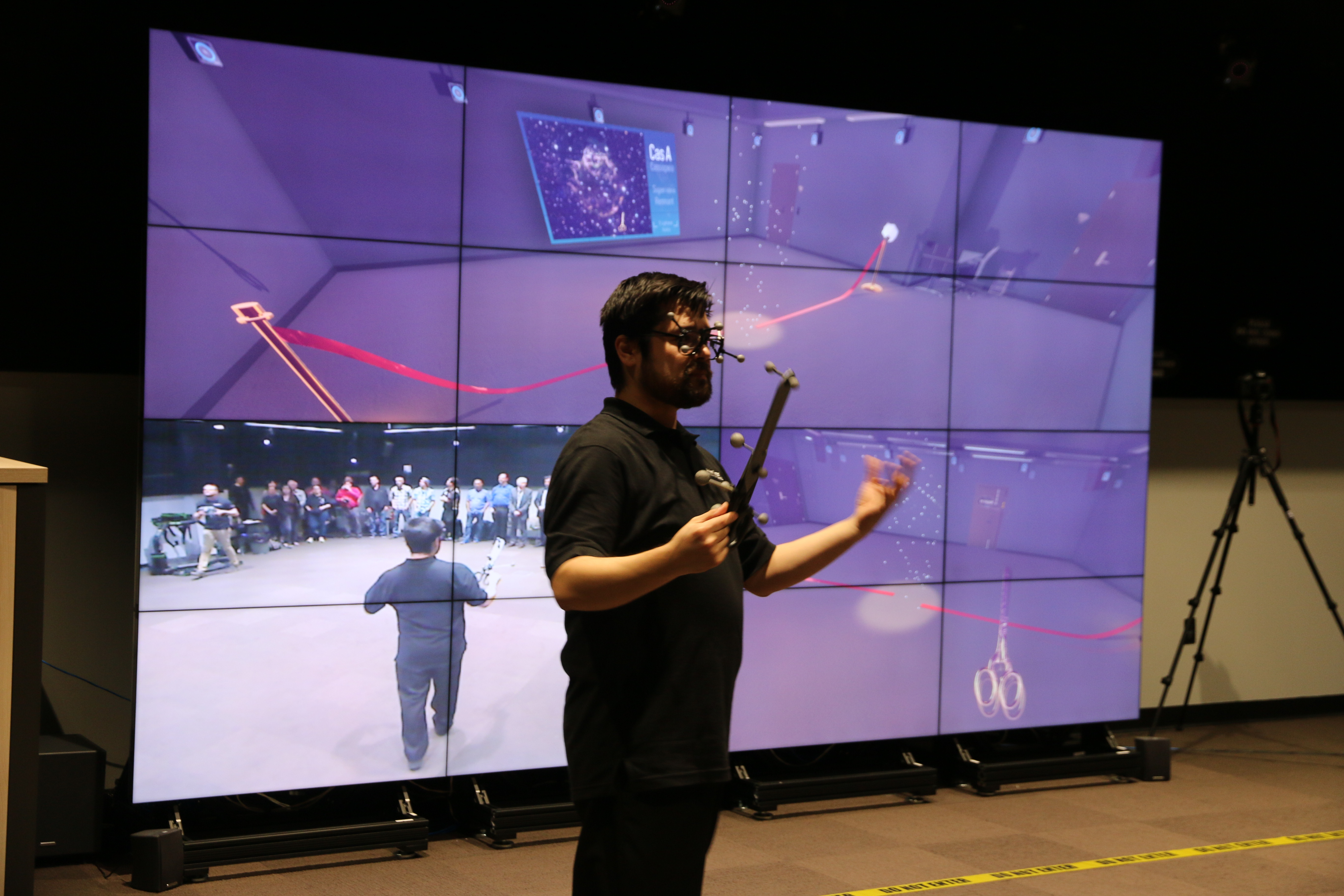 The Envision Center's 15th anniversary is a chance to look back on the center's accomplishments so far, while celebrating its next giant leap forward.
At a recent public open house in celebration of the center's birthday, technical director George Takahashi cut a virtual ribbon to unveil the transformation of the former CAVE virtual reality theater into The Forge, a new collaborative environment that allows multiple people to share the same virtual or augmented reality experience.
In The Forge, visitors explored a three-dimensional visualization of the supernova remnant Cassiopeia A. The Cassiopeia A visualization illustrates The Forge's capacity to let multiple people view the same data set from their individual perspectives – something that should be especially useful in the classroom.
In addition, some of the center's student employees used The Forge to demonstrate motion capture suits that track a user's movement and insert a representation of the user into the virtual environment.
The Envision Center was founded in 2004 to help researchers visualize scientific data in a more intuitive and immersive way. The center's staff and student employees use the latest technology to collaborate with clients to create virtual reality and data visualization tools for research and educational use, collaborate on grant proposals and develop promotional media such as animated videos.
The center's clients include 57 Purdue faculty members in 36 different academic departments. The center also participates in a variety of outreach efforts, offering more than 30 tours each year.
For more information about working with the Envision Center or to schedule a tour, contact envision@purdue.edu.
Open house attendees toured the center and also saw highlights of some of its recent projects.
On display for visitors to try out were a virtual reality simulator designed to protect construction workers from falls and a simulator for teaching safe handling of radioactive materials.
Writer: Adrienne Miller, science and technology writer, Information Technology at Purdue (ITaP), 765-496-8204, mill2027@purdue.edu.
Last updated: May 13, 2019